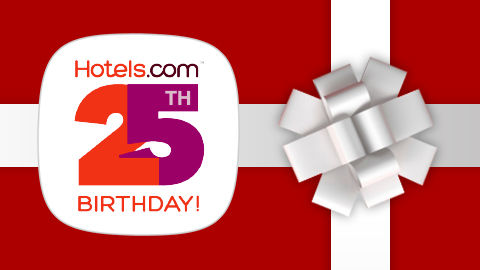 Here's a really sweet deal for anyone who plans to book accommodation abroad.
Hotels.com celebrates 25 years on the market and released a great £25 off discount coupon code for everyone.
To get this discount code just click on the button below to see it and then use it at the payment page during your reservation at Hotels.com
This Hotels.com 25th Birthday discount code is valid only today, 25th April 2019.
Minimum purchase necessary to get the discount is £250.
Travel dates are limited from 1st June to 31st July 2019.
UPDATE 13.6.:
We have a brand new Hotels.com UK discount code valid until end of August 2016 which gives you 10% off from your reservation:
This coupon can only be used on selected hotels in the UK.
Use this coupon to get 10% off the price of your booking at a participating Best Price Guarantee hotel when you stay between 1 and 28 nights.
You must pay for your stay when you make the booking. The discount only applies to the first room in the booking. You'll need to pay the full price for any other rooms. The discount doesn't apply to any taxes, fees or additional costs.
You may only use this coupon for bookings made until 07/08/2016 on the UK version of Hotels.com for a stay to be completed until 31/12/2016.
UPDATE 15.5.:
Here's another verified discount coupon code for Hotels.com that saves you 8% from your booking:
This promo code works on UK verion of Hotels.com until 26th June 2016 and is valid for stays between 06/06/2016 and 31/01/2017.
About Hotels.com
Hotels.com is a leading online service of hotel accommodation worldwide, offering booking services through its own network of international websites and call centres.
Hotels.com gives travellers one of the biggest selections of accommodation online, including both independent and major chain hotels as well as self-catering in more than hundreds of thousands properties worldwide. The company offers a one-stop shopping place for hotel pricing, amenities and availability and also focuses on providing travellers with accommodation during sold-out periods.
Hurry up and book your discounted hotel stay with Hotels.com!