If you plan to travel with LOT Polish Airlines in 2023, you can now save some money from the purchase of your ticket.
UPDATE 2.1.2023:
LOT Polish Airlines join Black Friday sales and offers 15% off promo code on all LOT flights!
This LOT promo code is valid until 29th November 2021.
Travel dates for this LOT discount code are allowed between January 10, 2022 to March, 26 2022.
UPDATE 06.11.2021:
LOT Polish airlines released a new discount code for 10% off any flights to USA or Canada.
This LOT promo code is valid until 7th November 2021.
Travel dates for this LOT promotion are 15.01-31.01.2022.
UPDATE 08.08.2021:
We have another hot new LOT promo code for huge 25% discount for any flight.
This LOT promo code is valid until 8th August 2021 for flights until end of October 2021.
UPDATE 28.11.2019:
Polish LOT airlines sent us a brand new Black Friday 2019 discount code for up to 15% off:
These LOT discount codes are valid until 2nd December 2019.
The 15% off promo code is valid only for flights from London-Heathrow and London-City to Poland.
Travel dates for this promotion are 10.01.2020 – 31.03.2020.
UPDATE 20.11.2018:
LOT just informed us about brand new BLACK FRIDAY promotion, where you can save 10-15% from the price of your flight.
To get the discount, just use one of these LOT promo codes during the booking process:
These LOT discount codes are valid from 19th November to 26th November 2018.
The promotion is valid on all routes, travel dates are from 15th January until 31st March 2019.
UPDATE 30.1.2018:
We now have one more new promo code for LOT Polish Airlines that gives you 10% discount from the purchase of the tickets.
To get this coupon code just click on the button below and then copy & paste the code in the LOT's booking form on the official website.
This LOT promo code works for all Economy class flights from Warsaw or other destinations in Poland.
The discount code works until end of February 2017, travel dates are not limited.
ORIGINAL POST:
To save nice 15% from your LOT Polish Airlines flight, click on the button below to see the promotion code and then enter it on the first page of booking form.
This LOT Polish Airlines discount coupon code is valid on all Economy class flights.
Travel dates (date of departure) for this LOT promo code are limited by 17th June 2017.
There is no specified minimum order either for this coupon!
The discount for this promo code is counted from the basic fare excluding addtional surcharges.
Other LOT promotions
25% Off Standard Fare for Children
Round Trip Flights from Los Angeles to Yerevan from $645
Flights from Chicago to Budapest Round-trip from $755
25% Off Fee For Child (2-11 Years) At Elite Club
Krakow Round-Trip From £197
Get $15 Off On Flights Using Coupon Code At Lot
Valentines Day Code: Get up to 10% Discount for Selected Lot Flights and Plan a Romantic Trip
Up to $575 saving on LOT Polish Airlines
How to apply this LOT promo code
To get the discount click on the button above and the promo code will be displayed.
Simply copy the code and then paste it on the Homepage of the official website of LOT.
There is a "I have promo code" link which will change into input field after clicking on it.
After clicking on "Search" button your will automatically get prices with the discount.
We also made a screenshot of this Promo code field for you:
About LOT Polish Airlines
Polskie Linie Lotnicze LOT, trading as LOT Polish Airlines, is the flag carrier of Poland. The airline is based in Warsaw and was established in 1929, it is one of the world's oldest airlines still in operation. LOT operates fleet of 41 aircraft. The airline flies to 60 destinations in Europe, the Middle East, North America, and Asia. It is the only airline in the region to offer nonstop long-haul flights to New York City, Newark, Chicago, Los Angeles, Toronto, Beijing and Tokyo. Most of the destinations depart from the main hub, Warsaw Chopin Airport. LOT is also a member of the Star Alliance.
LOT Polish Airlines is the only airline in the region to offer direct long-haul flights from Warsaw to New York, Newark, Chicago, Los Angeles, Miami, Toronto, Beijing, Tokyo, Seoul, Singapoure, Delhi, Colombo, from Krakow to Chicago, from Rzeszow to Newark and also from Budapest to New York and Seoul.
LOT video
Check out this cool video from LOT's Christmas campaign:
LOT photos
Here are some cool photos of LOT Polish Airlines: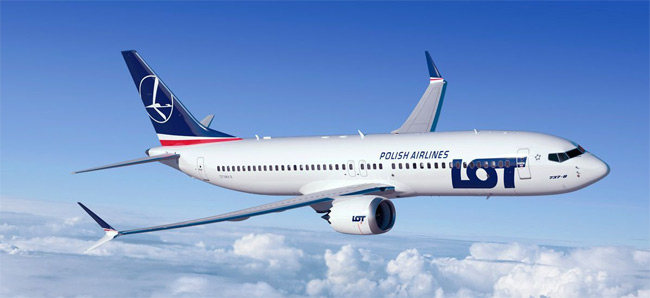 Official website of LOT is www.lot.com.
Enjoy your cheaper flight with Polish LOT!
Check also our other promo codes: Vueling promo code, Kiwi.com promo code or KLM discount code.