UPDATE 15.03.2023
Condor now offers Last Minute and Super Last Minute offers to many exotic countries for a great price.
You can fly for example to Varadero in Cuba for just €209 for one way ticket.
Other destinations include San Francisco, Holguin, Montego Bay, Mombasa and many other interesting destionations across the globe.
Book now to get these prices, the offer can expire quickly.
UPDATE 01.11.2021 – INACTIVE CODE:
We have a brand new Condor discount code for €20/€50 off.
This Condor promo code is valid for both shorthaul and longhaul flights, the difference is in the amount of discount.
Only first 5000 travellers will get the discount so you better hurry up with your reservation.
This promotion is valid until 19th July 2020, travel dates are not limited.
UPDATE 12.02.2020 – INACTIVE CODE:
We just received a new amazing €50 off promo code for Condor flights.
This Condor promo code is valid for longhaul flights flights only.
The promotion runs until 13th February 2020 and is valid for Economy, Premium Economy and Business Class.
Travel dates for this promotion are limited until end of October 2020 which gives you plenty of options for your trip.
This Condor voucher code is limited to 3000 uses, so you better hurry up with your booking!
UPDATE 10.01.2020 – INACTIVE CODE:
Condor released a brand new discount code in 2020 for €20 off any flight reservation.
This Condor promo code is valid for all flights (shorthaul, longhaul) operated by Condor.
The promotion runs until 14th January 2020 and is valid for Economy class only.
You can use this Condor discount code for all flights until 30th April 2021.
We remind you that Condor is a partner airline of bankrupted Thomas Cook. So far, funding for next 6 months of operations was secured, but it is currently unclear what happens after this period. For this reason we recommend booking flights only until June 2020.
UPDATE 28.11.2019 – INACTIVE CODE:
Condor sent us a great €50 off promo code for their longhaul flights:
The €50 off Condor discount code is valid for flights from Europe to USA and Canada, travel dates are limited until 28th June 2020.
The €15 off code is valid for flights within Europe, travel dates are restricted to 15th January – 31st March 2020.
UPDATE 18.04.2019 – INACTIVE CODE:
Condor sent us a new 2019 discount code which works for €10 discount for European flights or for nice $50 discount for longhaul international flights.
To get the code just click on the button below and use the promo code during booking your ticket.
The €10 Condor discount code works only for flights from Spain.
The second $50 Condor promo code works for flights with departure from Santa Domingo (SDQ), Juan Santamaría International Airport, Costa Rica (SJO), Baltimore–Washington International (BWI), Minneapolis–Saint Paul International Airport (MSP), Louis Armstrong New Orleans International Airport (MSY), Pittsburgh International Airport (PIT) or Austin–Bergstrom International Airport (AUS).
Both of these codes work until 22nd April 2019 for travel dates 16.04.2019-31.10.2019.
ORIGINAL POST – INACTIVE CODE:
Condor informed us about brand new discount voucher codes that can save you quite some money from your flight ticket in 2023.
To get the €25 discount from the price of your flight ticket click on the button below to see the special discount code and then apply it during the booking process.
There are two different Condor voucher codes for €10 and €25 discount depending if you fly long-haul or short-haul flight. Choose the correct voucher according to your destination.
These Condor discount coupon codes work until 24th February 2016.
To get the discount with this coupon you have to book flight with departure until end of October 2016.
There is no minimum purchase necessary for these voucher codes.
These Condor discount codes are valid for departures from all countries.
How to apply this Condor discount code?
Select your flight at condor.com, fill in all passenger details and then continue to payment page. There is a visible box Vouchers at the top of the page ("Do you have a voucher? Redeem it here now!").
Select I would like to redeem "1" voucher from the dropdown menu and then just paste in the coupon code shown above and hit Apply. The price will be automatically updated.
Screenshot of voucher field on the payment page:
Verified Condor discount code
We always verify all promo codes before we publish them on RushFlights.com.
Check this screenshot of successfully applied Condor voucher code:
Other Condor promotions
Condor currently runs these other great promotions:
$50 Off Selected Return Flights
Spend $67 and get $11 off your order
$130 USD/CAD Off CONDOR Business Class Tickets To Germany
Condor Coupon Code for $100 off Select Canada Travel to Europe!!
Non-stop One Way Flights From Seattle, Halifax And Las Vegas To Munich Starting From $299.99
Up to 

60% off

 Duty Free pre-order
$50 Off Booking All Condor Long Haul Return Flights from BWI, MSP, MSY, PIT, AUS
Sign-Up to Get Amazing Hotel Offers & Codes at Condor – US
Europe Flight Sale-Escape With Condor To Europe at Reduced Fares
About Condor
Condor, is a German leisure airline based in Frankfurt. It operates scheduled flights to leisure destinations in the Mediterranean, Asia, Africa, North America, South America and the Caribbean. Its main base is at Frankfurt Airport from which most of its long-haul flights depart; secondary bases for Mediterranean flights are Munich Airport which also features long-haul flights, Hamburg Airport, Hannover Airport, Düsseldorf Airport, Stuttgart Airport, Leipzig/Halle Airport and Cologne Bonn Airport.
In 2020 Condor remains the most popular leisure airline in Germany and will once again fly from Munich to Cancun in Mexico, Halifax in Canada, Seattle in the United States and Punta Cana in the Dominican Republic from summer 2020 and will therefore bring back Condor long-haul flights to the Bavarian capital. The route network from Frankfurt will also be further expanded this year. With the new destination Edmonton in Canada, the leisure airline is enlarging its North American route network. Short and medium-haul routes are also going to receive a breath of fresh air: Condor will fly to Paphos in Cyprus, Tivat in Montenegro and Toulon in France. In addition, Condor now also flies to Greece, Italy and the Canary Islands from Berlin-Schönefeld.
Condor photos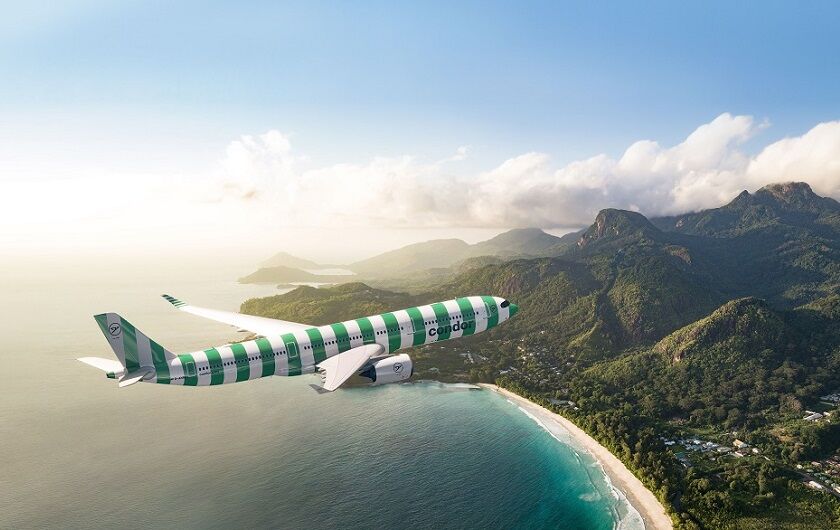 Condor video
Check this cool short documentary about Condor released to celebrate 60 years of Condor Airlines on the market:
Official website of Condor is www.condor.com.
Enjoy your cheaper flight with Condor!
Check also our other promotional codes: Vueling discount code, Kiwi.com promo code or KLM discount code.