An EgyptAir flight from Paris to Cairo has disappeared from radar, the Egyptian airline says.
It says there are 56 passengers, seven crew members and three security personnel on board Flight MS804.
The Airbus A320 was flying at 37,000ft (11,300m) when it went missing over the eastern Mediterranean. An official said the plane lost contact with radar at 02:45 Cairo time (00:45 GMT).
EgyptAir says search and rescue teams have been deployed.
The airline said the passengers on board included 30 Egyptians, 15 French citizens, one Briton, as well as people from Belgium, Algeria, Sudan, Chad and Portugal. There were three children on board.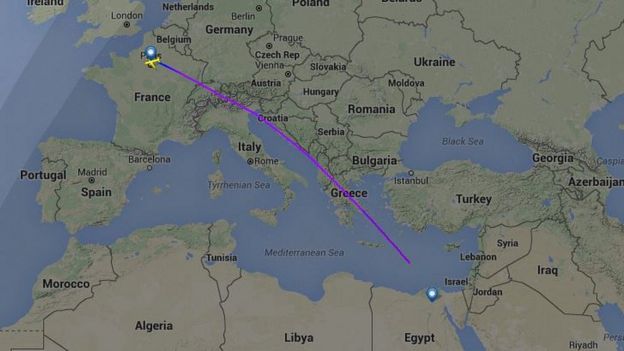 EgyptAir says the plane disappeared about 10 miles (16km) into Egyptian air space and the relevant authorities have been notified.
Amid fears that the plane has crashed into the Mediterranean Sea, the Greek authorities have joined Egyptian armed forces in the search operation.
Aviation analyst Alex Macheras told the BBC that Airbus A320s were regularly used for short-haul budget flights and had "an amazing safety record".
The EgyptAir aircraft left Paris' Charles de Gaulle airport at 23:09 local time on Wednesday (21:09 GMT) and was scheduled to arrive in the Egyptian capital soon after 03:00 local time on Thursday.
An airport official, quoted by Egypt's state-run newspaper al-Ahram, said the last contact with the plane had been 10 minutes before it disappeared – and no distress signal had been sent.
In March, an EgyptAir plane was hijacked and diverted to Cyprus. The attacker later surrendered and all hostages were released.
Last October, a Russian passenger plane flying from Sharm el-Sheikh crashed over the Sinai peninsula killing all 224 people on board. Officials in Moscow and Egypt later said the aircraft was brought down by an explosive device.
Islamic State militants said they had bombed the plane.
Source: BBC